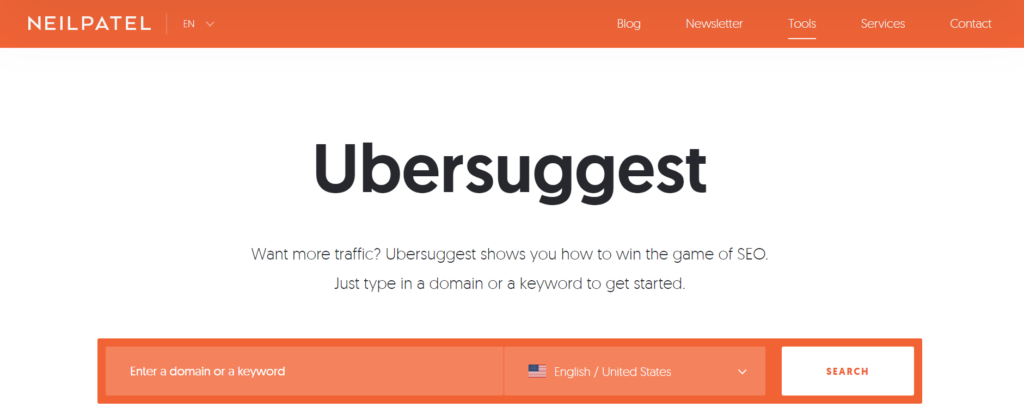 Making sure your site includes the proper keywords is a valuable strategy when trying to maximize its ranking in search engines like Google. Ubersuggest is a free keyword research tool that allows you to do just that.

Created by Neil Patel, a Forbes top 10 marketer, this tool makes it easy to figure out what phrases and terms your prospective customers are searching for.

Uber Suggest displays the average search volume and keyword value for each term you enter into the search box, helping you to determine which keywords to incorporate into your pages and posts.

Using this information, you can begin to curate your website's content and maximize its ranking in search engines.
Page speed is one of the first SEO factors Google analyzes when trying to establish a ranking for your website in its search engine.

If the pages on your site take longer than the average time to load, customers are likely to click away from your site and over to your competitors.

Google Page Speed Insights provides an easy way to assess the loading speed of each one of your pages. Simply enter the page's URL into the search box and click "Analyze" and you'll be provided with a custom report on the selected pages speed as well as the reason it may be underperforming.
SEMRush is like the Swiss army knife of SEO marketing tools. It provides an easy way to assess and improve your site's ranking in search engines by including helpful features like:
Technical SEO audits
Semantic core collection
Position tracking
Ideas for gaining more organic traffic
Competitive intelligence
Problem solution
Backlinks audit and analysis
However, because of the value SEMRush brings to the table, it is a paid tool and you can expect to be charged on a monthly, recurring basis.
The MozBar is a helpful tool used for conducting SEO research for your website and also your competitors websites.

With this tool, you can easily compare your link metrics with competitors right on an easy-access toolbar installed on your web browser.

MozBar displays information like:
Keyword difficulty
Domain authority
Page authority
Link analytics
MozBar is available for free or as a paid version with additional features.
Perhaps the most widley-known analytics tool, Google Analytics lets you assess your websites performance in search engines by providing information like:
User demographics
User operating systems (moble/desktop/tablet)
Time spent on your webpages
Bounce rates
Pageviews
Traffic sources
More
With this particular tool, it is easy to link to multiple websites and it is helpful because the information it provides allows you to easily make alterations to your website to increase its SEO score.
A good SEO provider will have a solid understanding of all of these tools and how to use them in a way that helps your website achieve the highest organic search rankings possible.

CreoLogic Web Design has been helping clients create aesthetic, SEO optimized websites for nearly two decades. Contact them today to learn how you can benefit from their services!