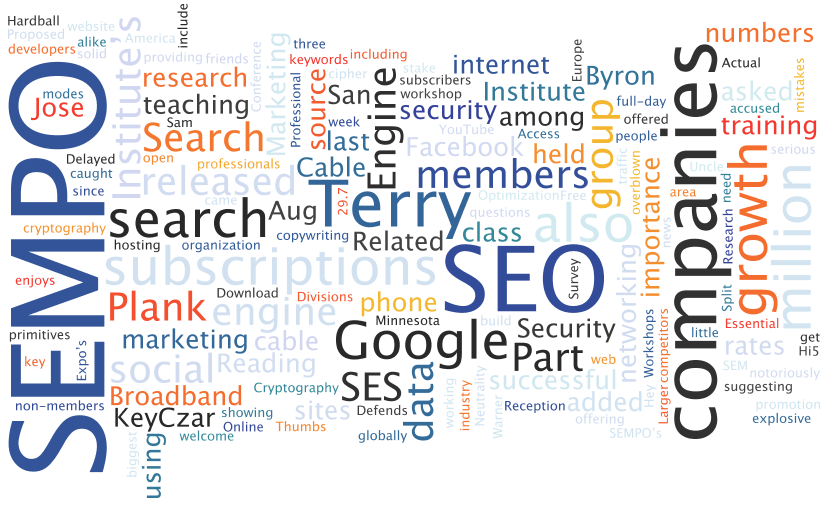 Making the proper use of keywords and keyword research can pay huge dividends for your business. But, like most things, there's a right way to do this and a wrong way to do this. Keep reading to make sure you don't fall into the latter category.
The Wrong Way To Use Keywords
In the early days of search engines, those who could cram as many keywords as possible into various places on their website content could essentially "cheat" the system to receive a favorable search ranking. This is what is known as keyword stuffing.
When I'm talking about keyword stuffing, I don't mean adding a few well-placed keywords to headings, the beginning of paragraphs, meta descriptions, and alternative text, etc… No, doing this is okay and has actually been shown to improve your site's search rankings.

What I mean by "keyword stuffing" is going above and beyond to jam-pack your content with as many keyword phrases as possible (hundreds, if not more) with the hope that it will improve your ranking in search engines.

Why shouldn't you be doing this?
Well, here are just a few of the problems associated with keyword stuffing:
It decreases the quality of your content – Take a look at this paragraph:

Looking for cheap preowned cars in Canada? Come on down to our showroom where you'll find the widest selection of cheap preowned cars available. No matter what make or model you desire for your next cheap preowned car, you'll be sure to find a cheap preowned car that fits your eye!

Obviously, "cheap preowned cars" is their keyword phrase. But that's just it – it's obvious. When you can tell that someone has structured their content around a specific keyword, it comes across as spammy. Also, the flow and rhythm of the content will suffer.
Modern search engines hate it and will penalize you for it – this strategy may have worked in the past, but Google and other search engines are smarter than that now. Their ranking systems are specifically designed to weed out those who believe keyword cramming will work in their favor.
It's just downright annoying – Have you ever tried reading a webpage or blog post written by someone who's made a blatant effort to stuff as many keywords as possible into the text? It's sloppy and grammar is often forgotten in the process, dramatically reducing the readability of the content. This is an immediate turnoff for your site visitors and a sure way to have them click away to competitor's sites.
A keyword density no higher than 5% should be sufficient for most. Save the stuffing for Thanksgiving!
The Right Way To Use Keywords
Now, I don't want to give you the wrong idea – keywords CAN be extremely beneficial for improving your search rankings. There are two main ways in which they can do so:
1. Keywords Can Be Effectively Used For Research
Since August of 2018, everyone has been talking about Google's E-A-T Rating. E-A-T stands for expertise, authority, and trustworthiness. The idea behind this update to Google's algorithm was to shift away from ranking "hacks" like keyword stuffing, and to transition towards a system that rewards useful content – content that displays expertise, authority, and trustworthiness (E-A-T).

So that means keywords should get thrown out the window, right?

Not necessarily.

Ironically, keyword research can actually help your business improve its E-A-T Rating by providing insight into topics people are searching for, allowing you to then create expert content that addresses their needs.

For example, if you were conducting keyword research for your carpentry business and discovered that the search query "DIY shed construction" had 10,000 hits per month, you might then decide to leverage your expertise and authority as a carpenter to provide helpful content for those looking to build their own shed.

What I'm getting at is this – keyword research can be a helpful tool when trying to figure out where to use your expertise and authority to take advantage of Google's E-A-T update.
2. Light Keyword Use in The Proper Areas Can Improve SEO Score
Strategic placement of keywords throughout your website's content is still a good practice when trying to optimize it for search engine ranking. Here are some examples of where you may benefit from implementing keywords:

Headings/Titles – Including your keyword in your headings is a good idea because search engine crawlers will look at the heading to get an idea of what your content is about.

First paragraph of each section – If you have a keyword in your heading but it's not mentioned again until the sixth paragraph, this may give search engines the impression that your content isn't relevant to your titles. That's why it's a good idea to include your keyword at least once in the beginning of each section of content.
Meta Descriptions – The meta description is that little snippet of text you see underneath search results:
It acts as a summary that search engines can read to figure out the general idea behind each piece of content you publish. Having your keyword in this area will have a positive effect on your search rankings.
Alternative text – Google and other search engines can't see images. They must instead rely on alternative text to figure out what each image is about. If your keyword is relevant to the image, be sure to include it in your alt text.
Interested in learning more about keywords, SEO, and web design? Check out some of the other posts on the CreoLogic blog!