By Kelly Grainger, CreoLogic Design Inc.
Every now and then and completely unannounced, Google changes its search algorithms. When they do, your site's search rankings will most probably be affected, negatively impacting natural search traffic and resulting revenue. Since this can happen many times throughout the year, trying to "fix" the problem and climb back up the rankings can be a long and frustrating process. Some companies never regain their losses.
Even more exasperating is Google saying that there's nothing you can do about it. According to Google's official @searchliaison Twitter account from March 2018:
"Each day, Google usually releases one or more changes designed to improve our results. Some are focused around specific improvements. Some are broad changes. Last week, we released a broad core algorithm update. We do these routinely several times per year.
As with any update, some sites may note drops or gains. There's nothing wrong with pages that may now perform less well. Instead, it's that changes to our systems are benefiting pages that were previously under-rewarded. There's no "fix" for pages that may perform less well other than to remain focused on building great content. Over time, it may be that your content may rise relative to other pages."
Minimizing the impact
Instead of being at the mercy of Google and trying to "fix" things every time they change their algorithm, the best strategy is to go on the offense and minimize the impact. You can do that by building your website right from the beginning. However, so much more is involved than just producing great content!
Look at your website from a technical SEO perspective and ensure your "code" is generating a good user-experience. One of the best tools available to audit your code is the Google Page Speed Insights tool, where you'll see a breakdown of on-page elements that require adjustments to increase speed and performance, and ultimately improve the user-experience. If you're not convinced that user-experience has much at all to do with SEO, revisit Google's 10 commandments, where you'll find "Focus on the user and all else will follow." in #1 position.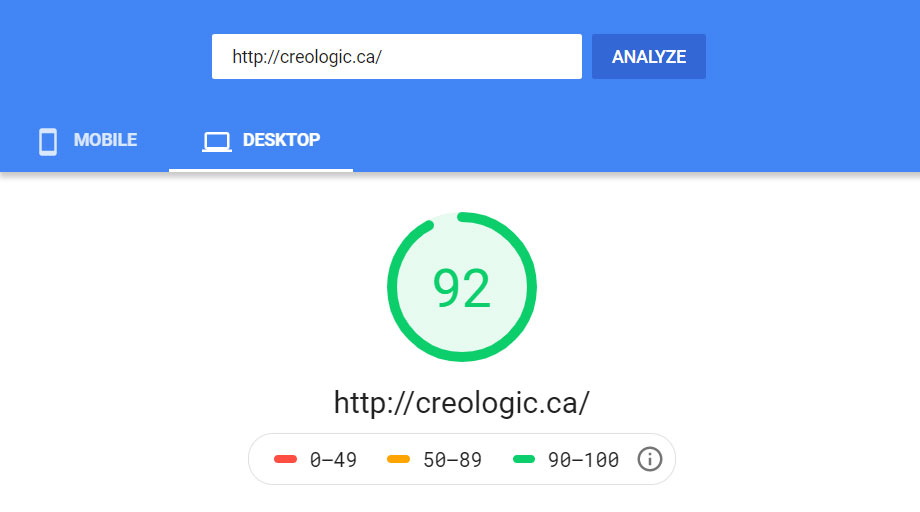 Above: A screenshot from the Google Page Speed Insights tool. Websites that score in the 90-100 range have a better chance of ranking higher.
Your websites' schema also requires your attention. It helps search engines understand the structure of your webpage and how it's displayed. That's especially important for local SEO as it allows search engines to understand your business' location-related information such as address, phone number, opening times, events, and much more. You also need to pay attention to other aspects such as optimizing link depth in your blogs or tapping the potential of Google Image Search
At CreoLogic, we specialize in building Google-friendly, custom websites with lean, purposeful code specifically engineered to rank well in Google. Whether it's ensuring quality content, mobile compatibility, performance, or hidden factors that enable your website rank higher, faster, we can help. Visit http://creologic.ca/ or contact me at info@creologic.ca to set up a time to chat.
About the author
Kelly Grainger is the Founder and President of CreoLogic Design Inc., a leading website and SEO company based in Edmonton, Canada. Leveraging 20-years' experience, Kelly's focus is on helping local companies take advantage of digital transformation to enhance services and create competitive differentiation.