What is Local SEO?
Local SEO helps your business to rank in search engines for queries related to your particular area. For example, if you own a local shop or store, you want to make sure search engines know where to find you so they can tell your potential customers where to find you.

But how does local SEO work?

Take a look at the screenshot below: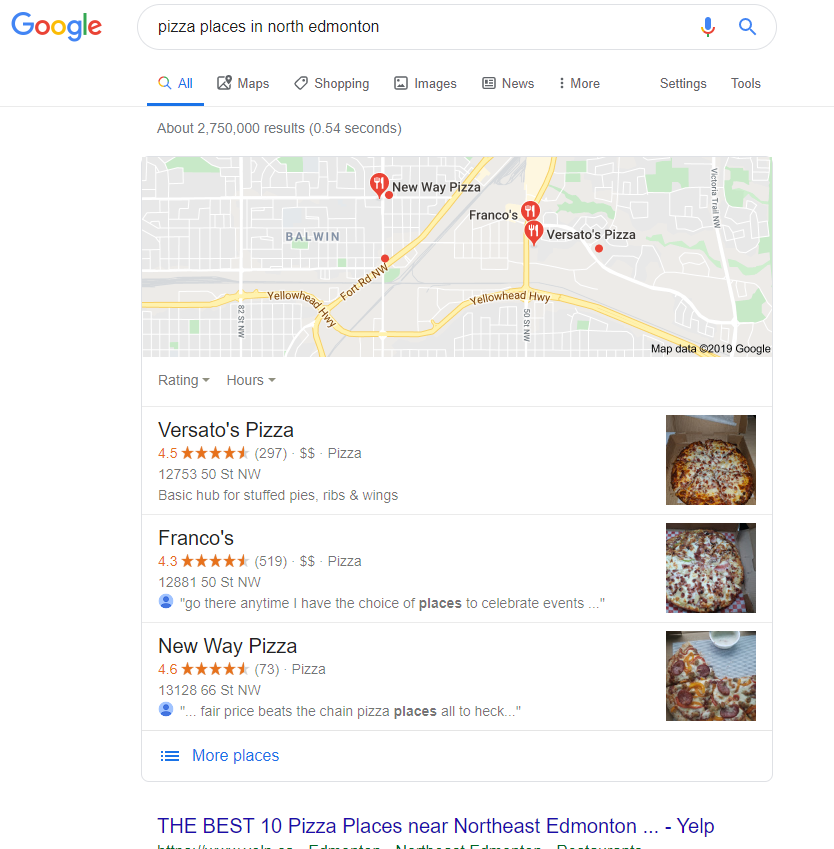 If I'm visiting the Northside of Edmonton and I'm craving a pizza, the above search is likely what I would enter into Google. When you search for businesses that are relevant to a particular area, Google provides you with two sets of results. First, you are given the "snack pack." The snack pack is the set of results that appear first when you conduct a location-based search: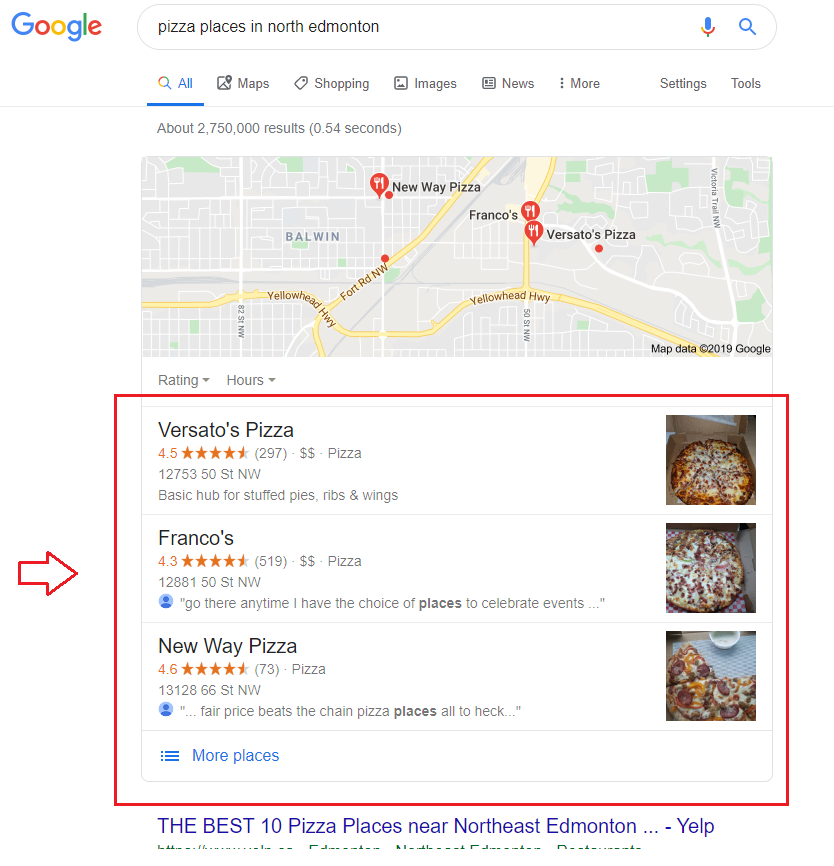 The top results in the snack pack are generated by Google's evaluation of a combination of factors like relevance, reviews, and more.

You also have the organic results. The organic results appear below the snack pack:
According to Moz.com, 33% of clicks go to the snack pack and 40% go to regular old organic search results. So, it's important to consider both snack pack and organic results in your Local SEO strategy.
Why is Local SEO so Important?
Other than the obvious reasons of generating more traffic and creating more awareness for your business, there are a myriad of other reasons why a local SEO strategy is important for the success of your business. Let's take a look at some of the numbers!
46% of all Google searches are for local businesses. This includes searches with words or phrases like "near me" or "closest."

"Near me" searches have increased over 500% in the last few years.

50% of users visit a store within 1 day of conducting a local search.

28% of local searches result in a purchase.

97% of consumers check a company's online presence before deciding to visit them.

29% of people search for a business at least once a week.

Up to 78% of mobile searches result in a purchase.
How to Improve Your Local SEO
There are a number of things you can do to address local SEO for your business's website:
Claim your Google My Business listing
Optimize your website for local searches
Customize your site's content for your area
Utilize Google reviews for your business
Implement at least a few of these practices and you'll begin to see more people walking through your door on a regular basis.
Looking for a Locally Optimized website?
CreoLogic web design has been helping businesses throughout Alberta build beautiful websites that rank well in local search. Contact them today to learn how they can create a site for you that looks great and attracts visitors to your business!